Malta offers a vast selection of food – to eat like a local when visiting the Islands of Malta, Globaltravelbook recommends the following 12 Maltese foods, traditional Maltese food that one should not miss out on when visiting Malta. The following list of recommendations is based on where Globaltravelbook have eaten, however, Globaltravelbook recommends doing your own research on where to find and eat the recommended foods. So continue reading to find out more about the best traditional Maltese foods.
1. Fenek Moqli (Fried Rabbit) / Stuffat tal-Fenek (Rabbit Stew)
In Malta, eating rabbit is more than just a mean – it is a social activity and the dish is usually enjoyed fried in garlic and wine or in a rich stew served with fries and Maltese bread to soak up all the delicious juices. Restaurants offering rabbit usually offer other Maltese dishes such as Snails in a sauce, Maltese Platters and Maltese bread which are usually served as starters. Our recommendation is 'United Bar and Restaurant' in the picturesque village of Mgarr, located close to the local Parish church.
Price Range : 14 to 17 euro per person/ whole rabbit shared between 3 to 4 persons 30 to 40 euro.
2. Pastizzi and Qassatat (Local pastry delicacies)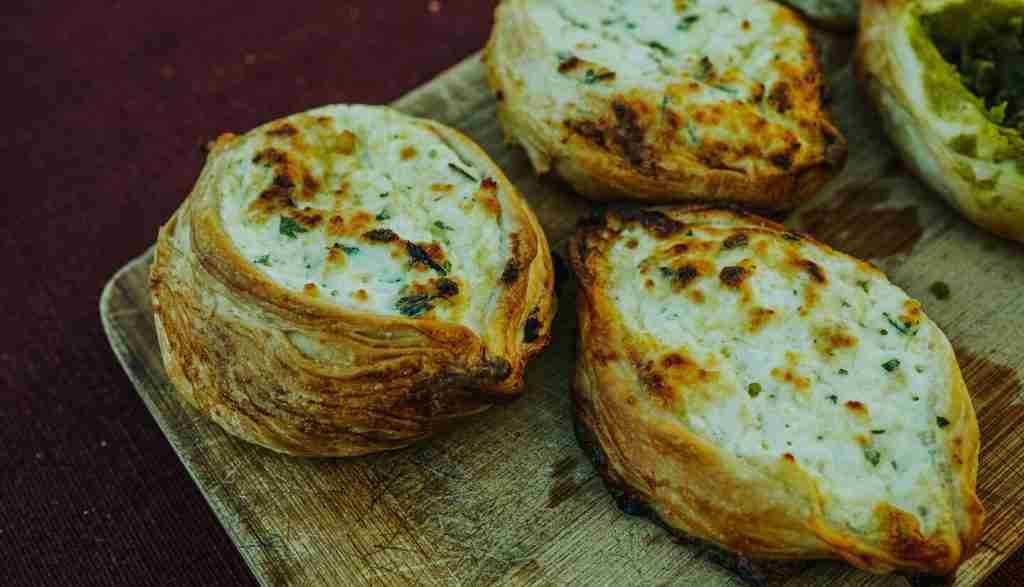 These Maltese delicacies are the epitome of Maltese street food, which are accessible absolutely everywhere around the Maltese Islands commonly, found in take away shops "Pastizzeria" referred to as Tal- Pastizzi. Pastizzi are flaky pastries filled traditionally with Ricotta or a mushy pea mixture, nowadays these can be found with chicken, fish and even nutella. An 'Qassata' is similar but the pastry is slightly thicker an resembles a small pie filled with the same ingredients as the pastizzi. Our recommendation is "Serkin" in Rabat which could be tied in with a day visiting the medieval town of Mdina or our experience where you will learn to make them and take the recipe back home with you. Check out this video featured by Lovin Malta to find out more on Maltese Pastizzi.
Price Range: 0.35c to 40c
3. The Famous 'Ftira' ( Maltese bread )
This bread comes in two forms: a big O-shaped flat bread (half is usually one portion) or a smaller bun-sized version, traditionally filled with a tuna mixture consisting of tomato paste, olive oil, canned tuna, olives, onions, Gozo cheeselets (hard peppered cheese a.k.a "gbejna") and others, depending on where it is bought. Some locals (especially after a night of alcohol) also like eating this kind of bread with butter, a fried thin slice of beef and a fried egg or as a typical Maltese breakfast option with butter, fried eggs and bacon. Our recommendation is 'Buchmans' and '77 Snack Bar' both in Gzira, however this snack is found in many outlets across Malta.
Price Range: 2 to 3 euro
4. Gozitan Ftira aka the Maltese traditional pizza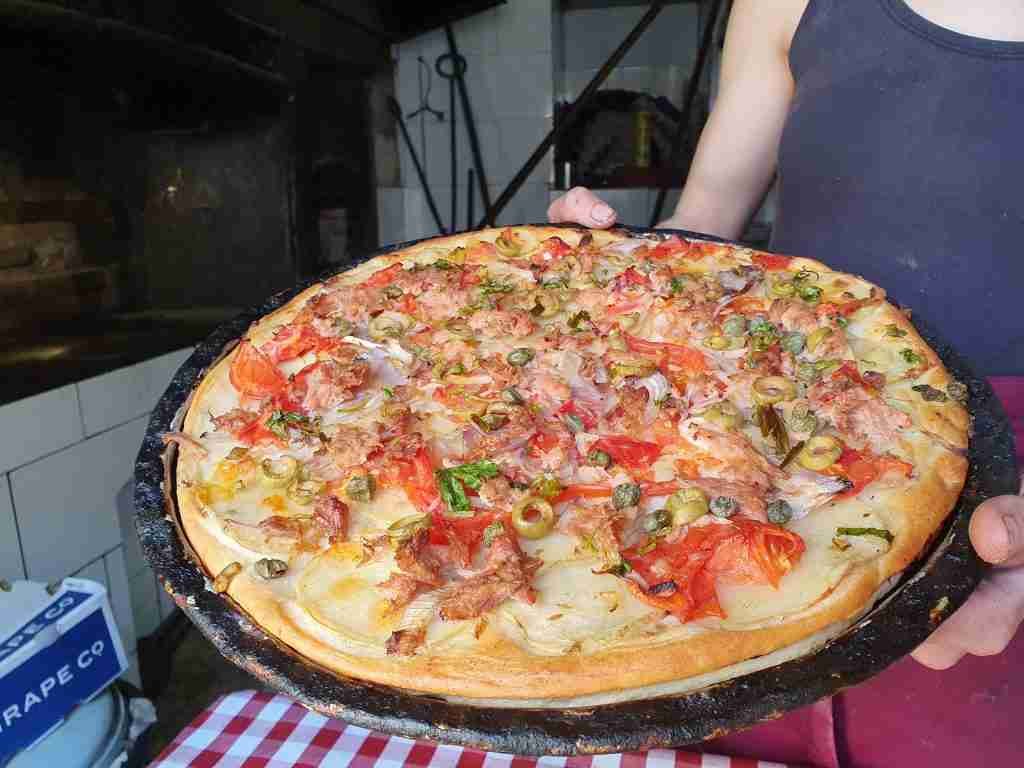 Even though it shares the same name, the Gozitan Ftira is a traditional pizza made from the same dough used to make Maltese bread 'Ftira' and cooked in a traditional wood burning oven which is never switched off. This typically consists of thinly sliced potatoes, onions, fresh tomatoes, fresh cheeslets, Maltese sausage and olives, however, ingredients may vary. This is usually found in Gozo and our recommendation is to oder one from 'Mekren's Bakery" and eat it in the close square of the old town of Nadur with a view of the spectacular church. This bakery is a must-do when visiting Gozo and it is listed as one of the stops in this experience.
In 2021, Mekrens Bakery have also opened a bakery in Malta.
Price Range: 6 to 8 euro
5. Gbejna (Cheeselets) with Ħobż tal-Malti (Maltese Loaf)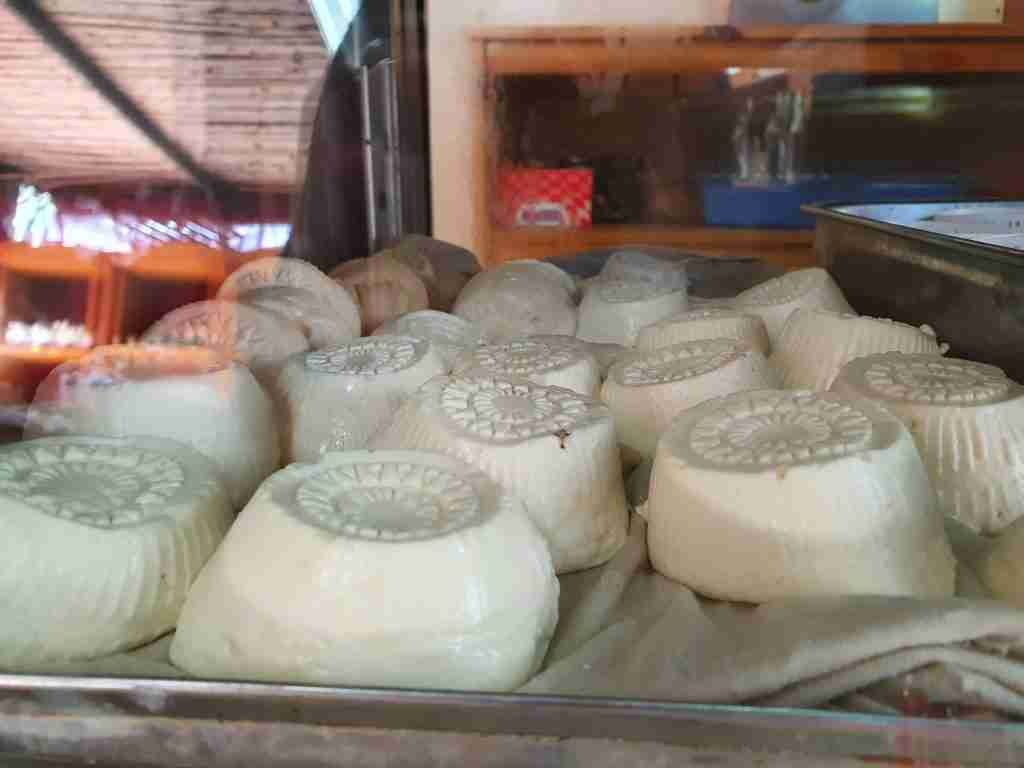 The Maltese gbejna (cheeselet) comes in two forms – fresh with a soft, smooth texture or as a semi-hard cheese usually covered in pepper or one can have it plain. This cheese is an authentic culinary delicacy and goes well with a variety of homegrown dishes such as in soups like "Kuksu bil-Ful", fried with a chutney sauce or served with a Maltese platter. Our preference, is to have this cheese (fresh or peppered) in the morning as an authentic Maltese breakfast with olive oil, salt and a couple of slices of traditional Maltese Loaf (il-hobza). If you are interested in learning more about the Maltese Loaf, check out this experience, where you can learn to make it and go home with the recipe. The cheeselets could easily be found in any grocer or supermarket. The 'Ħobż tal-Malti' made it on the 50 best breads in the world published by CNN Travel.
Price range: 1euro
6. Bragioli (Beef Olives)
Brgioli is a meat-based traditional local dish from Malta – this consists of thinly sliced steak rolled and stuffed with a mixture usually consisting of ground beef, bacon, boiled eggs, breadcrumbs cooked in a hearty gravy served with potatoes. We would recommend trying this dish at 'Ta'Kris' restaurant tucked away in an alley in Sliema. This restaurant offers other traditional Maltese dishes and I would also recommend trying the fried cheeselets "gbejna" as a starter and their spaghetti with rabbit sauce.
Price Range: 13 to 18 euro
7. Maltese Platter with 'Bigilla' (Maltese Broad Bean Dip)
A Maltese platter is similar to an Italian antipasta and are packed with rich, flavoursome Maltese ingredients such as gbejna (cheeselets) Maltese sausage, sundried tomatoes, stuffed olives, pickled onions ususally served with a 'Bigilla' dip on the side served with Maltese bread smothered in a tomato paste or with water-based biscuits called 'galletti'. 'Bigilla' is a Maltese speciality dip that consists of mashed broad beans, olive oil, garlic, parsely and other aromatics.
This is typically served as a sharing starter at a restaurant/wine bar.
Price Range: 9-15 euro
8. Traditional Maltese Fish and Seafood dishes
Malta being in the Mediterranean offers a wide array of restaurants serving freshly caught fish. We recommend visiting the fishing village of Marsaxlokk and visiting one of the many restaurants along the seafront. For starters try out some 'aljotta' – a traditional Maltese fish soup, spaghetti with fresh seafood or sea urchins or even a raw fish platter 'crudo' and then for main course try a freshly caught fish. We recommend the following fish: Lampuki (Dorado/mahi mahi), Tuna, Calamari, Swordfish which are all seasonal or else Seabass, Red Snapper, Grouper or Octopus (more about this below). Try our 'Roots' restaurant in Marsaxlokk or 'Zigumar' in Qawra.
Tip: Lampuki is a personal favourite, we enjoy this in a pie (read more below) or shallow fried. Try our recommended recipe for shallow fried lampuki if you have access to a kitchen while in Malta ( This fish is available from September until mid-November)
Price Range: 25 – 60 euro per person
9. Stuffat tal-Qarnita (Octopus Stew)
Octopus is common in Maltese cooking and can be served in a variety of ways, our favourite is a stew version, where local caught octopus is slowly cooked in a tomato-based sauce with other typical meditteranean ingredients such as onions, tomatoes, olives, wine and a sweet tomato paste served with taditional Maltese bread so soak up all the juices. The sauce could also be used with spaghetti as a starter or main meal. We also recommend trying this dish at "Ta'Kris" restaurant tucked away in an alley in Sliema or at "il-Kartell" if in Gozo.
Price Range: 13 -25 euro
10. Torta tal-Lampuki (Lampuki pie)
Lampuki Fish (Dorado/Mahi Mahi) is usually found between September and mid-November. This pie, although seasonal, is a favourite in Malta and recipes vary however main ingredients would consist of: lampuki, onions, spinach, olives, garlic, tomatoes, basil & mint. Since this fish is seasonsal, one may be lucky enough to find it as a 'special' option at a fish restaurant or one can find a frozen version at a supermarket.
Price Range: 8-15 euro
11. Zalzett Malti (Maltese sausage )
A traditional fresh Maltese sausage is made from local ground pork, sea salt, black peppercorns and a mixture of aromatics such as parsley, coriander seeds, garlic. This appetizing treat can be enjoyed raw (I like it raw mixed in a ftira with a tuna mixture mentioned in point 2 – at your own risk), grilled on a bbq or pan-fried – one can also get imaginative and use the ingredient in other dishes such as pasta with a Maltese sausage ragu, scotch egg, a topping on pizza, as a patty in a burger, the list goes on. These Maltese sausages are found at butchers across the Maltese Islands. Our favorite is from "Meats and more" in Swieqi.
Price Range : 2-4 euro
12. Imqaret (Date Cakes)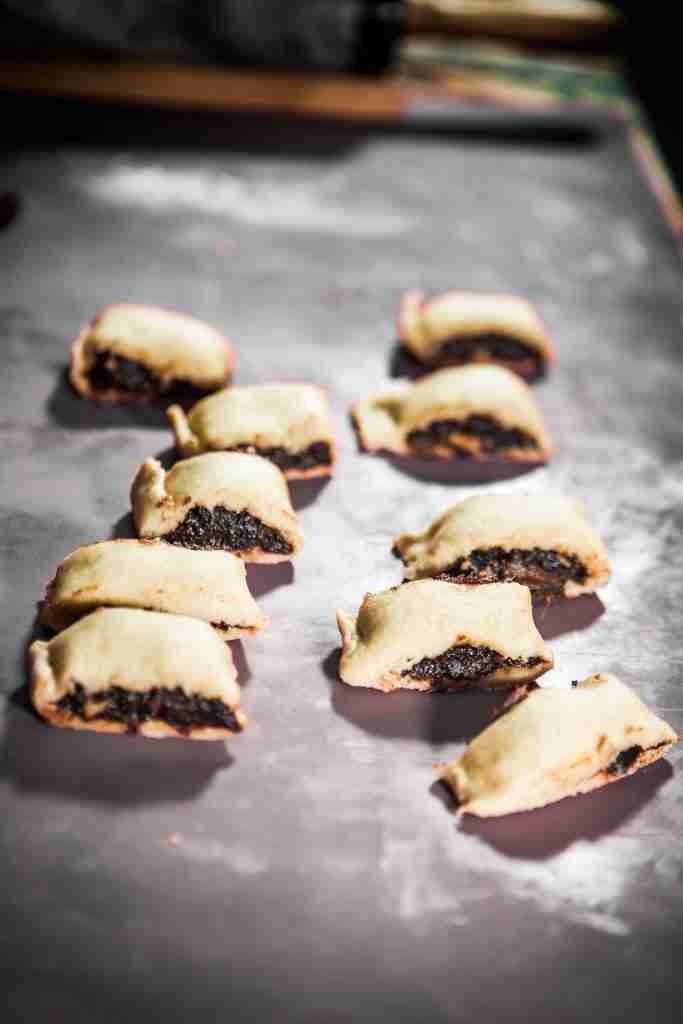 These are usually taken as a dessert or as a sweet treat – they are diamond shaped pastries packed with a rich date filling and deep-fried. There are a popular street food and can be found at restaurants, street stalls and from vendors across Malta. Our favourite is to have them at the end of a meal, served warm with a scoop (or two) or vanilla ice cream. Usually found at any restaurant serving Maltese traditional food.
Price Range : 2-8 euro
All the above-mentioned Maltese specialities could be washed down with the following local beverages: the favourite locally brewed Maltese beer Cisk, a local soft drink Kinnie or a vast range of local wines.