Here is a list of places to visit and things to do while in Malta & Gozo in order to properly experience the culture of the Maltese Islands and it's treasures. A 7-night stay in Malta should be enough to cover the list.
1. Visit Gozo
Gozo is must and should not be missed, whether you are into history, a beach goer or you just enjoy beautiful scenery. Gozo is definitely one of the most beautiful islands in the Mediterranean Sea. Globaltravelbook says missing out on Gozo is a big mistake; just make sure to explore many of the hidden gems along with the usual highlights.
We advise either a day trip in Gozo or at least spending 1 to 2 nights. Globaltravelbook offers a day trip to Gozo visiting the highlights and hidden gems.
2. Walk around Valletta
The capital of Malta, Valletta is a drop-dead gorgeous heritage gem! The fortress city rests between two main harbours, Marsamxett and the Grand Harbour giving visitors breath-taking views from all sides. The Grand Harbour is one of the most beautiful harbours in the world and this view could be enjoyed from the Lower and Upper Barrakka Gardens and Hasting Gardens. Across the Grand Harbour, you have spectacular views of the Three Cities which will make you feel like you are looking back in time as this part of Malta is relatively untouched. The Three cities consist of Birgu, Senglea and Cospicua. Birgu is the oldest of the Three Cities and was once the capital city of Malta under the Knights of St.John. If interested, you could read more here.
Valletta feels like a time capsule. Besides the beautiful views and architecture, which has not been touched in hundreds of years, Valletta is packed with history, delicious eateries, shops and bars. The best way to experience Valletta, is by foot, so best is to get lost in the narrow streets of Valletta as every corner is worth seeing.
You may walk from one point of Valletta to another in just 30 minutes however Valletta has much to offer, a full afternoon is well needed but if you are into history and museums, you could easily spend a full day or 2 in Valletta.
During the summer time, one may find it too hot to spend a full day in Valletta however we recommend going after 5pm during summer time then staying on till the evening. Valletta is packed with restaurants and bars.
Winter / Spring / Autumn is a very good time to enjoy a full day in Valletta. It is popular among the locals especially during the winter to have lunch in Valletta on a Friday then to go bar hopping around Valletta for early drinks till late. We recommend walking along Strait Street for a good vibe, a long street packed with good eateries and bars. Read this link for some interesting facts about Strait Street.
Recommendation for a day trip: Breakfast in Sliema, lunch in Valletta and Dinner in Birgu ( One of the Three Cities )
Globaltravelbook recommends starting the day with a good breakfast at one of the various restaurants along The Strand seafront in Sliema, after which, you may cross the Marsamxett Harbour via ferry into Valletta (Link here). Spend late morning and the afternoon exploring the streets of Valletta and an hour before dinner, we recommend heading to the Upper Barrakka Gardens, to enjoy the scenic view and then taking the Barrakka lift (Link Here) down to the waterfront in order to cross the Grand harbour to Birgu (One of the main 3 cities). Here, you may stroll around Birgu and the waterfront and find a spot at one of the restaurants for dinner.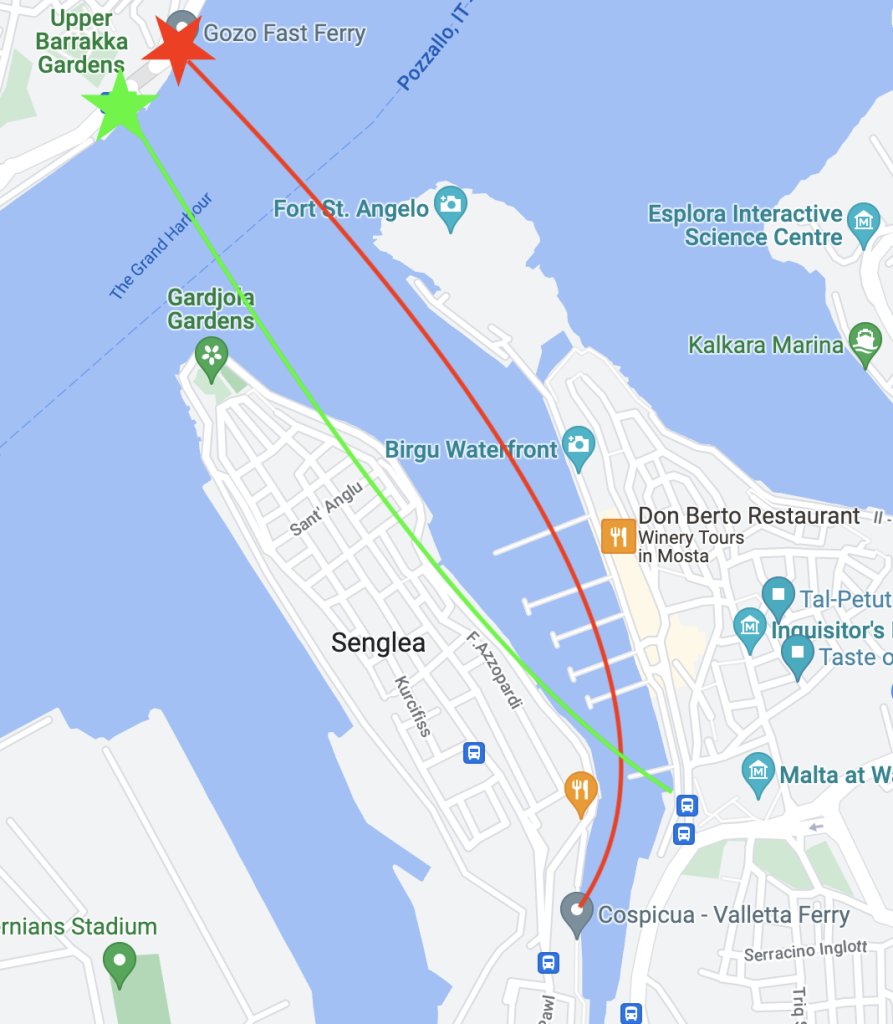 3. Explore Mdina & Rabat
Mdina and the neighbouring town of Rabat are a must when visiting Malta. We advise to fit them in together. Malta's first Capital City, Mdina 'The Silent City' is a medieval fortified town and has a 4000 year storyline which witnessed the rise and fall of various invaders like the Phoenicians, Romans, Arabs, Turks, Knights, French, British and much more. Both Mdina and Rabat are filled with enchanting narrow alleyways and streets, which are great to visit during the day (apart from end of June until mid-September) as well as at night. This area offers a choice of eateries. While in Rabat, we advise stopping for a snack at the famous 'Crystal Palace' aka 'Serkin'. This snack bar is one of Maltas most popular place for Pastizzi (Location). Surrounding Mdina and Rabat, one can also find many historical landmarks to visit such as the: The Roman Villa, Howard Gardens, St.Paul's Catacombs, St.Agathas's Catacombs and Casa Bernard.
Here are some tips and things to do around Mdina and Rabat by Malta uncovered and the Sane Travel.
4. Enjoy Malta's Mediterranean Sea and it's beaches
Another reason to visit Malta is for its promising sunshine during the summer months (May – October) and the beautiful Mediterranean Sea.
How to enjoy Malta's sea to the full?
Malta has dozens of fascinating sandy beaches in the Northern part of Malta and the most popular sandy beaches are Mellieha Bay, Golden Bay, Paradise Bay and Riveria Martinique. Beautiful and secluded swimming spots could be found off the rocky coast around Malta. A popular rock pool could be found at St.Peter's Pool in the Southern part of Malta. Visiting all the most popular beaches in the North and South of Malta in one day could be complicated, unless you are renting a car, however during peak season, be aware of the chaotic parking situation. Going by public transport is possible but only if you choose one or two beaches to explore as otherwise it is too time consuming.
Globaltravelbook offers a full day beach hopping experience to 5 of Malta's most popular beaches in the North and South of Malta – Link here. Giving you lots of time to enjoy each beach with a private driver.
Another 'must do' to enjoy Malta's sea life is scuba diving or snorkelling. Malta is a popular destination for scuba diving because of its natural harbours, sheltered creeks, reefs, wrecks, cliffs and clear blue waters. Two of the dive sites in Malta are amongst the best in Europe: These are the 'Blue Hole' in Gozo and 'Cirkewwa' in Malta. There are over 80 ship and aircraft wrecks in Maltese waters, about 15 of which are regularly dived.
Here are some Scuba diving companies that we recommend for tandem dives as well as advanced divers
5. Dig into Malta's delicious traditional food
Food plays a big part when it comes to experiencing a country's culture and Malta has an exciting cuisine, which surely should not to be missed. Malta is literally a melting pot of civilizations, which has created fusions totally different to anything else you might have tried anywhere else. Check out our article on our top 12 traditional Malta foods here.
While dining out at traditional Maltese restaurants is always on everybody's to do list, Globaltravelbook offers multiple unique food experiences many of which are at dinnertime. Instead of sitting down at a restaurant to try Maltese food, why not join a class and learn how to cook a traditional Maltese dish – these experiences are educational, fun and interactive while allowing locals and travellers to interact. Check out the Globaltravelbook food section.
6. Visit the beautiful island of Comino
The small island of Comino, home to the famous 'Blue Lagoon', lays between Malta and Gozo and is known for its majestic lagoons and hidden caves.
It is possible to visit Comino by ferry either from Malta or Gozo, however if you opt for this option then you may only explore Comino on foot, as there are no buses or taxi services available. Although beautiful to visit and swim at, the Blue lagoon beach is usually overcrowded especially during peak season. The Crystal lagoon and caves are only possible to visit by boat, as there is no beach access.
The best way to explore Comino and it's lagoons is by boat, Globaltravelbook offer private speedboats as well as sailing boat charters to the island of Comino. Our service providers will take you all around Comino, exploring more than just the Blue lagoon and Crystal lagoon but also the hidden caves.